If you are here for the first time, you can check out the introduction to the Think Outside the Toy Box post for all the details of this awesome new series.
Now on to this week's fun with:
PLASTIC BOTTLES
Last week in this series I introduced you all to glow-in-the-dark bowling. Now that would have worked great for this week as well. However, I already had my mind completely set on an idea when I saw plastic bottles on the items list for this series. I knew immediately what I was going to do with them and I was super excited. I have been looking forward to trying this project out ever since I pinned this image months back onto my DIY Myles board. To be honest, I probably never would have gotten around to doing it if it weren't for this series. So I am loving trying all these project and ideas out with Myles. Unlike last week,

so far Myles is loving his plastic bottle waterfall. I'm guessing because it involves water and getting messy. Also he is really intrigued by how the whole thing works; he has been moving the bottles around and sticking his hands in them trying to figure it all out! This has already given us lots of fun playtime in the summer heat!
Plastic Bottle Water Fall
What You Will Need:
5-6 plastic juice or pop bottles, rinsed out
Open spot on a wood fence or large piece of wood
1 Steak knife, scissors, or X Acto knife
6-10 screws
6-10 washers (optional)
Drill or screw driver
Step-stool (optional)
Directions:
*Because this activity involves cutting with knives and drilling screws, this should be set-up by an adult. Kids can watch and help at your discretion, but for safety reasons should wait until the waterfall is finished to play.*
1. Find an open spot in your wood fence to set up the waterfall. Or you can attach a 4x4 or larger piece of wood to any fence or wall you choose.
2. Take one plastic bottle and cut the whole bottom off of it. Hold the bottle, cap side down, up to the wood to measure where you want the top to be. I had my son stand on the step-stool and reach his hands up. We placed the top bottle where he could comfortably touch the top of it. Use one screw and washer to attach the bottle, cap side down.
*Tip: we noticed that after we put the whole thing together the water from the top bottle was mostly just splattering out all over. So Mark thought of the idea to put the cap back on the bottle and cut a small hole into the middle. He is so smart because it worked perfectly!*
3. At this point you can set-up the waterfall however you would like. Because I wanted Myles to be able to reach the top when standing on his step-stool, we weren't able to make ours very tall. After the top bottle, we were only able to fit 3 more bottles. This ended up working out great for us, but if you have older and taller kids, you may want to start higher and use more bottles.
For the middle two bottles, we cut rectangle shapes out of the sides of the bottles and attached them to the fence staggered and slightly diagonal so that the water would pour into the next bottle.
For the last bottle, Mark came up with the idea to make it so that the water would sprinkle out of the bottom of it.

Using the knife, we stabbed one side of the bottle about 8 times. Then we attached the bottle (holes side down and cap still on) to the fence. Also this bottle should be vertically straight.

4. Fill another plastic bottle with water. Set it inside the top bottle and let the waterfall fun begin!
5. Repeat, repeat! Get wet, messy and add some rubber ducks to the mix!
And if you have a post (new or old) that you created showcasing plastic pop bottles in a kid's project, craft, game, experiment, etc., submit it below as well. No post this week? No problem; join us next Monday when we will be using paper grocery bags!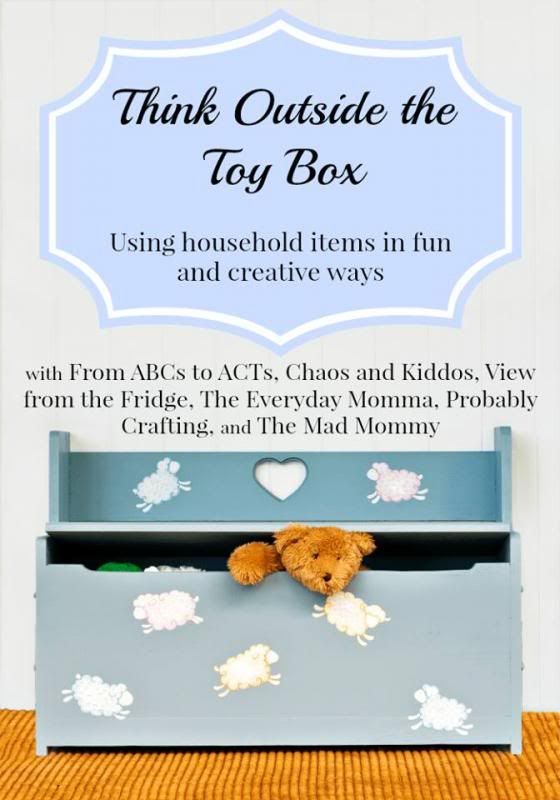 Also just in case you want to get a head start, here is the complete list for the coming weeks:
June 9 - Paper Grocery Bags
June 16 - Kool-Aid
June 23 - Ice Cream Cones
June 30 - Pool Noodles
July 7 - Wax Paper
July 14 - Puzzle Pieces
July 21 - Paper Cups
July 28 - Plastic Milk Jugs