It's music time people! I'm back for another edition of the Tunesday Tuesday link up with The Patchwork Paisley, Drinking the Whole Bottle, Momma Candy and MrsTeeLoveLifeLaughter. In typical Julia fashion, I have missed the last couple of weeks. I was trying to think up my excuse while I am typing this, but darn it, I really don't have one. It was probably either tired or sick... getting old sucks! So anywho, I am going to be tackling three weeks in this one post! Exciting, right?!? Well here goes: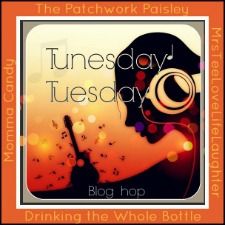 Week 9 Theme: "Your Car Jam"
Every week, these are so hard for me to pick just one. When I am sitting at my computer writing, I can never think of my choice. It always comes to me at some random time in the middle of the day. I had been thinking about my 'Car Jam' for a couple of days, then I heard JT's "My Love" come on the radio and it instantly came to me:
JT "Summer Love"
He never made a video for this song, so this is a crappy recording of a live version. But man, do I love me some JT! Whenever I hear this song all I can think of is riding around in a convertible during the summer time, with all my best girl friends, just singing our hearts out! Perfect summer time car jam!
Ridin' in the drop top with the top down
Saw you switchin' lanes girl
Pull up to the red light, lookin' right
Come here, let me get your name girl
Tell me where you from, what you do, what you like
Let me pick your brain girl
And tell me how they got that pretty little face on that pretty little frame girl
Let me show you 'round, let me take you out
Bet you we could we could have some fun girl
'Cause we can do it fast (fast), slow, whichever way you wanna run girl
But let me buy you drinks, better yet rings
Do it how you want it done girl
Week 10 Theme: "Favorite Oldie"
This one was super hard for me to choose. Up until about an hour ago, I had no idea how I would pick my absolute favorite oldie. I didn't even know what my parameter was for an 'oldie'. Typically, when I think of oldie, I think of classic rock. I have been racking my brain for the ultimate classic rock song for over a week and I just couldn't pick one. I am a classic rock fanatic, so it just isn't possible for me. So tonight as we were pulling up to a restaurant for a family dinner, the answer came to me; literally just randomly popped into my head. I decided to take a different route with the term 'oldie' and pick an all-time classic rap song. The 'oldie' part is certainly debatable, but every song is going to be old at some point. This song is now 20 years old and by today's rap standards, I would definitely consider it an 'oldie'. I also have to preface this song choice by saying that I am, and forever will be, a Tupac-er. This is one of the very few Biggie songs I like. This song is my jam, but I am, at heart, a West Coast woman!
Notorious B.I.G. "Juicy"
Week 11 Theme: "Best Love Song"
This was actually a no-brainer for me. I think this was the first time I didn't have to think for days to make my choice. When I saw the theme for this week, I instantly knew what I would pick. I have tons of favorite love songs, because R&B is my absolute favorite music genre. Honestly, for this theme, I would love to be able to pick a favorite song from each one of my top R&B artists. I could pick at least 20 favorite love songs. Even right now, I have a dozen floating around in my head that I want to share! But I am going to go with my initial choice because it is truly an R&B classic for me. Also this isn't a happy love song; I don't know if that was what this theme was going for, but I am not too much into happy love songs :) My favorites are the break-up/broken-up ones.

Still have your picture in a frame
Hear your footsteps down the hall
I swear I hear your voice, driving me insane
How I wish that you would call
To Say
Do I ever cross your mind, anytime
Do you ever wake up reaching out for me
Do I ever cross your mind anytime
I miss you

This song gets me every time. I could be the happiest I have ever been in a relationship and still cry when I hear this song. The conviction in this song is amazing; he really makes you feel what he is feeling. Cue chills and welled up eyes :(
What would be your picks for these themes? What do you think of mine?