Welcome to week three of the Think Outside the Toy Box Summer Fun Series! I so love being a part of the this series so far. Myles and I have been having tons of fun making and playing with each project so far. I look forward to the time we get to spend together each week trying to figure out what to do and how to put it all together. I have been pleasantly surprised by how much he has been actually participating and engaged with each project so far. I can't wait to see what the rest of the weeks bring us!
If you are here for the first time or want to check out all the details again, take a look at the post introducing the Think Outside the Toy Box summer fun series. Also if you have missed weeks one or two, these are the projects we have done so far:
Glow-in-the-Dark Bowling (and bath)
Plastic Bottle Waterfall
Now on to this week's fun with:
PAPER GROCERY BAGS
For this week's project, I drew inspiration from a couple of things my son likes. One being space rangers in the form of Buzz Lightyear and the other being this bag from Mega Bloks.
He discovered the amazing potential of the bag when we were visiting his best friend Cameron. One day when we were playing at his house, Myles saw Cameron put the empty bag over his head and run around like a spaceman. Once Cameron let Myles try, he would not stop. He ran around forever with that dang bag on his head! After I saw how much fun he had with it, I was tempted to buy the block set just for the bag. However, by this time, I had already learned that for some reason toys seem to lose 90% of their appeal once they come into our house. So I wasn't about to waste $20 to have him not look at the thing more than once. Then one day I got the bright idea to just make my own bag with a clear plastic hole in it! It is a total win in our house because it is super easy for me to make and it combines Myles' desire to be Buzz Lightyear with his love for running around with a bag on his head! And that is how we came up with the....
Paper Bag Astronaut / Alien Costume
What You Will Need:
A large paper grocery bag
1 zip-lock gallon freezer bag
Colored Pipe Cleaners (Optional)
Directions:
*Because this activity involves cutting with scissors, it should be made by an adult. Kids can watch and help at your discretion, but for safety reasons, should wait until the costume is complete to play.*
1. Start by measuring and marking with a pencil where the hole for the face should be. I put the bag next to the son and roughly estimated (while chasing him around the kitchen) the dimensions of the face cut-out. If your kid (like mine) does not want to cooperate, just make it start about an inch in from the top and sides and then as long as their face is. I think the picture below is a good estimation reference.
2. Place the zip-lock gallon freezer bag inside of the paper bag directly over the hole you just cut. Tape all four sides of the plastic bag down to the paper bag with duck tape.
3. Now you will want to cover the whole outside of the paper bag with duck tape. I tried only covering the front (as you see in the pictures), but the sides ripped within minutes of play. So I would suggest just covering the whole thing at this step. Then you will want to cut arm holes into the sides of the bag. The location and size of the holes depend of the size of your child, so have them try it on and get a quick estimate of where the arm holes should be. For reference, my son is 34 inches and I had to put the arm holes about 2-3 inches up from the bottom.
*It should be easier to tape the sides first and then cut the arm holes... I learned that the hard way. Plus from looking at my pictures now, I think it would look a lot cooler with the silver duck tape covering the whole thing.*

4. If you want to turn your astronaut into an alien just add two pipe cleaners to the top of the bag. I picked green ones to fit the alien theme, twirled them around my finger, and poked them through the top of the bag.
*Again, I would suggest using the duck tap over the top and sides before play time. That way you avoid having to make another one within minutes (like me)!*
5. Play! I think this would be fun for pretend play with friends; one could be the spaceman/astronaut and the other could be the alien. Or like my son, they can just run around screaming random babble and practice ninja moves.
And a little outtake just to show you the struggle is real over here:
Playtime in Myles' brain is synonymous with 'destroy everything mommy is trying to do'. Here he is caught in the act of premeditated annihilation of mommy's hard work. That devilish smile on his face is typical right before he goes to play his favorite (and my least) game: kick, kick, kick whatever is around me, even though I know I am not supposed to!
And with that week three of the Think Outside the Toy Box Summer Fun Series is complete! Also don't forget to check out what all of the other ladies put together for this week's item in the link-up below.
And if you have a post (new or old) that you created showcasing paper grocery bags in a kid's project, craft, game, experiment, etc., submit it below as well. No post this week? No problem; join us next Monday when we will be using Kool-Aid!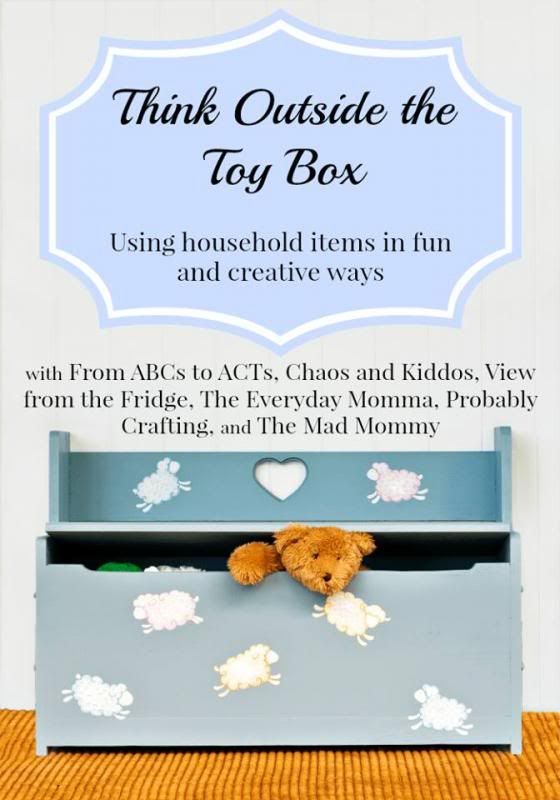 Also just in case you want to get a head start, here is the complete list for the coming weeks:
June 16 - Kool-Aid
June 23 - Ice Cream Cones
June 30 - Pool Noodles
July 7 - Wax Paper
July 14 - Puzzle Pieces
July 21 - Paper Cups
July 28 - Plastic Milk Jugs