I am so overjoyed and thankful for the wonderful community of mothers I have had the pleasure of meeting and interacting with in the blog world. Over the past year since I started my blog, I have really been inspired and uplifted by so many wonderful ladies, including all of the moms that host and link-up at the Mom Lovin' Hop every week. I am very honored and grateful to be apart of their one year anniversary. To celebrate the hosts and some past co-hosts have gotten together and are giving away $66 in PayPal cash to one lucky lady! Enter below and don't forget to link-up this week too!


A crazy special thanks to the following blogging mamas who happily visited our hop over the year, partnered with us, built community among other moms here and of course for contributing to the cash giveaway!
Now, after you enter this AWESOME giveaway, don't forget to scroll down farther to link up to the hop! Don't miss our 52nd!
Here we go! Don't forget to...
**grab out button and display it proud for other mama's to get in on this action!
**read the rules, link up and socialize!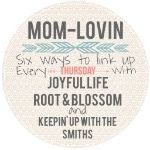 Please, if you are new to the hop or have been here but haven't left a comment, please let us know on our own respected blogs that you are a new follower (be sure to say HOW you are following) so we can follow you back!
Also,
If you are interested in co-hosting FOR FREE shoot Hannah an email at hannahsjoyfullife (at) gmail.com to get on the list, growing your followers couldn't be easier!