I felt like it was about time that I introduced you all to the other, other man in my life (he comes after Myles and my dad). He is my boyfriend of 6 long years, father of our child (aka baby daddy), and my butterfin (ridiculous nickname I have given him). The details of our crazy, roller coaster of a relationship will be saved for another day, but I will be giving you just a little tease of the infamous Marky. He is taking over my blog today for a link-up called The Boys Behind the Blog by Mal and Stephanie. Below are his answers to the 5 questions that Mal and Stephanie posted earlier this month. If you want to participate click on the link above and check it out!

And of course, I couldn't go without commenting myself, so my responses to his answers are in italics.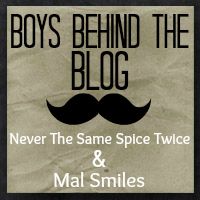 1. What's your lucky number? My lucky number is 12 because that's my birthday. We have been together for 7 of Mark's birthdays, from 24 all the way to the big 3-0 last year! As you can see, the celebrations always involve dinner of some sort.

2. Do you have a lucky charm? I don't really have a lucky charm. I wear this rock healing necklace for health sometimes, but I don't think it really works. I have to agree, I don't think it works. He does like to keep the paper fortunes from fortune cookies if they are particularly good or pertain to certain situations. I bet he would have never thought about that!

3. Do you fill out a bracket for March Madness? Who do you want to win?
What is March Madness? Yup, that's Mark. I think he may be the only man in the world to not care about sports whatsoever. He doesn't play or watch. In fact, I know more about sports than he does. I guess it's kind of nice because I don't have to lose him every Sunday during football season, etc., but it is a little weird. He is athletic and really strong though. He was an aggressive Rollerblader in his younger years. He even got me to try it out... It should be of no surprise that it didn't end well.
4. March 10th is "Middle Name Pride Day." What's your middle name? My middle name is Richard! Yeah they say Dick is short for Richard, so that's cool. Yup short for Dick... sounds about right ;)
5. Submit one question that would would like to see on a future The Boys Behind the Blog. What is your favorite thing to do with your kid/kids? I guess he doesn't realize that not everyone has kids. To be fair I write a mommy blog, so I'm guessing he assumes that all of the bloggers I interact with are also mommy bloggers. I do love this question though! Here are a couple pictures of things Mark likes to do with our son Myles.
They enjoy working on projects together. Myles loves to feel like he is really helping out; he always wants to hold the tools. I got him his own plastic tools, but of course, he still wants the real ones.
This is Myles giving his dad the 'pound'. Mark has been doing this with him since he was born and calls it 'boom, boom'. He has been waiting a long time for Myles to do it back. He finally did it around 17 months and this is the first time I was able to catch it on camera. He even says 'boom, boom' too. Melts my heart :)